What is published in the media on Afghanistan's victory?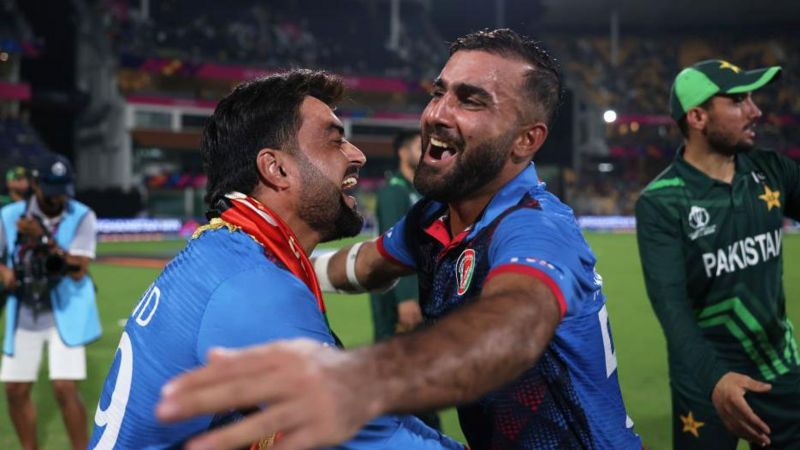 What is published in the media on Afghanistan's victory? Irfan Pathan got surrounded in Pakistan by dancing.
Afghans are elated with Afghanistan's victory over Pakistan in the ICC Cricket World Cup.
Videos of Afghans' celebrations are coming from different parts of the country. It seems that a cricket victory has united politically divided Afghanistan.
It is being said in the Afghan media that Afghanistan's eight-wicket victory over Pakistan in the World Cup will be remembered for a long time.
This victory is historic for Afghanistan in many ways. First, Afghanistan had not defeated Pakistan in ODI cricket till date. Secondly, in the entire match it never seemed that the Afghanistan team was inferior to Pakistan in any respect.
Afghanistan has succeeded in chasing the target of 283 runs for the first time. Earlier it was said about Afghanistan that it fails to chase runs.
In 2014, Afghanistan had scored 276 runs against UAE and now after almost a decade, it was successful in hitting Pakistan's target of 283 runs.
Before this World Cup, Afghanistan was successful in defeating Scotland in the 2015 World Cup.
Celebration on the streets
The victory against Pakistan has also got a prominent place in the media of Afghanistan.
Ashraf Alam, a resident of Kabul, Afghanistan, told Tolo News, "Last night, I watched the entire match on TV with my family. Even the small children in my house were very happy. Everyone was in a celebratory mood."
Kabir, also from Kabul, told Tolo News, "Cricket is the only source of happiness for us. Or rather, cricket is the only reason due to which we get happiness."
Afghanistan's cricket expert Rahman Rahimi told Tolo News, "When there is a match between Pakistan and Afghanistan, political issues also get involved in it. This is the reason why the Afghan players did not make a single mistake during the match."
After Pakistan's defeat, common Afghans took to the streets to celebrate. People were singing and dancing and were also seen firing guns in joy.
Afghanistan cricket team captain Hashmat Ullah Shahidi has said, "We will try to give similar happiness to our countrymen in the upcoming matches also. We request our countrymen to continue supporting our team in both good and bad times.".
Taliban also happy
Afghanistan's Amu TV has written in its report that the Taliban rulers here are also happy with the victory against Pakistan.
Maulvi Abdul Kabir, political deputy in the Taliban's Prime Minister's Office, wrote on Twitter, "We congratulate the Afghanistan cricket team, the cricket board and all Afghans for this victory. This victory proves that Afghan youth can win in any field." Can do. And our best wishes for success."
BBC Pashto has written, "Afghanistan played its first ODI cricket match with Pakistan 11 years ago in February 2012 in UAE and Pakistan won."
"But in the 2023 World Cup, against Afghanistan, Pakistan scored 283 runs for seven wickets in 50 overs and this target was achieved by the Afghan players by losing two wickets in 49 overs. After this defeat, Pakistan team is in bad shape in their country. It has been surrounded by a lot of people and is being criticized a lot."
After Afghanistan's victory, former Indian cricketer Irfan Pathan was seen dancing with Afghan player Rashid Khan in the stadium.
This video clip went viral on social media and is widely discussed in Pakistan also. Irfan Pathan was heavily criticized in a Pakistani TV program.
Regarding Irfan Pathan, an anchor said, "If Irfan is not able to do anything in cricket, then he is throwing Bhangra with Rashid Khan in the field. In what happiness is Irfan Khan throwing Bhangra?"
What are people saying in Pakistan?
Pakistani journalists are also very angry with their team after the team's defeat against Afghanistan.
Abdul Ghaffar, head of sports in Pakistan's English newspaper Dawn, says, "Most questions are being raised on captain Babar Azam, but what should not be asked of Shaheen Shah Afridi? Shaheen Shah Afridi should watch the bowling of Umrah and Siraj. "
"Shaheen Shah Afridi has been the most disappointing compared to Babar Azam. I would ask Pakistani fans to pray for their team to make it to the semi-finals. May Allah defeat Australia today."
Abdul Ghaffar says, "Now Pakistan will have to win all four matches to reach the semi-finals. Apart from this, Australia and South Africa will have to lose the remaining matches. Besides, Pakistan will also have to improve its run rate."
Many analyses have been published in Pakistani media outlets regarding the Pakistan-Afghanistan match, the topic of most of them being – Why has the condition of Pakistan's cricket team become like this?
An analysis has been published in Geo TV that what is going wrong with the Pakistani team in the 2023 World Cup?
Pakistan has played a total of five matches so far, out of which it has lost three. It has won against Netherlands and Sri Lanka and lost against India, Australia, and Afghanistan. Pakistan is yet to play matches against South Africa, Bangladesh, New Zealand, and England.
If Pakistan wants to remain in the world, then it will have to win all the remaining matches. Geo News has written in its analysis, "It is obvious that India is the favourite team in this World Cup, but Pakistan was also not seen as a bad team. Pakistan had also made a good start. Australia, India, and Afghanistan. "Many weaknesses of the Pakistan team were clearly exposed."
What's more, lack of planning and out-of-the-box thinking was not visible.